Since time memorial the sugarcane breeding played vital role in improving sugarcane yield and sugar recovery. This is a process of evolving new genotypes which are superior over the existing ones for the set of different traits of sugarcane .Due to the efforts under the umbrella of AlCRP (S) (All India Co-ordinated Research Project (Sugarcane) many new varieties are released and continuous efforts are made to improve further. Important varieties and their features for utility sugar industry and farmers for Karnataka are given below.
The sugarcane in Karnataka is grown in four major regions.
The recommended sugarcane varieties, planting season, age at harvest and expected recovery is presented in the following table.
Sl. No.
Variety
Sucrose%
Region
Planting Season
Age at harvest
Expected Sugar Recovery %
1.
Co 8371
Co 86032
12.5
Southern & Coastal & North Karnataka
Aug. 1st week onwards
12 to 14 months
11.0 to 12.0
2.
C0 7804
Co 62175
13.0
Central Karnataka
June, July, Aug, Oct & Nov.
12 to 14 Months
11.0 to 11.5
3.
CoC 671
Co 94012
Co 86032
Co 92020
14.5
Central& North Karnataka
Oct to Jan.
12 to 14 Months
12.0 to 12.5
4.
CoC 671
Co 86032
Co94012 SNK 754
SNK 61
SNK44
13.2
North Karnataka
June to February
12 to 14 Months
12.0 to 12.5
CoC 671
Parentage- Q 63 x Co 775
High cane yielding, high sucrose, early ripening variety with relatively longer field keeping quality
Thick variety with low tillering/ ratooning ability
Responds well for higher dozes of fertilizer and irrigation
Profusely flowering with hard spines on leaf sheath
Suitable for early and adasali planting.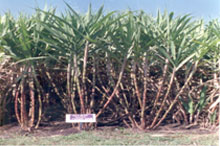 Co 94012:
Parentage: Soma clone of CoC 671
High cane yielding, high sucrose
Better ratoonability
Very spare and late flowering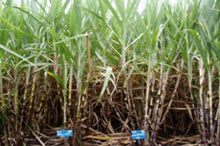 Co 86032:
Parentage: Co 62198 x CoC 671.
High yielding and quality cane variety with excellent ratooning ability
Reddish pink colored medium thick canes with broad green root zone and green purple leaf sheath.
Late and very sparse flowering (< 5%), hence longer field keeping quality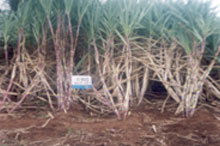 Co 740:
Parentage: Co 440 x Co 421 (D 3247 x C 4745)
High yielding both in plant and ratoon crops
Tolerant to drought and hence suitable for rainfed cultivation
Highly susceptible to smut and lodging
Suitable for late crushing and adasali planting